The Clean energy for European islands initiative aims to help islanders embrace renewable energy and energy efficiency, create jobs and economic growth, and reduce greenhouse gas emissions. By joining the Initiative, you become part of an EU-wide community of islands and experts working on the island's clean energy transition. Being part of the Initiative will allow you to access expert support and learn from the transition projects and processes of peer islands.
The EU islands secretariat invites and supports island communities in developing and implementing a vision for their clean energy transition in a way that brings together all relevant actors on the island - including civil society organisations, local authorities, local businesses and schools/universities. 
The path towards full decarbonisation of EU islands requires concerted action and a collective effort - this includes the different stakeholder groups working to make their island community future-proof, however it will not be possible without the support of expert organisations. 
How can you become a Supporting Organisation?
In order for your organisation to be recognised as one of the Initative's official Supporting Organisations, simply download and sign the Declaration of Support. Being a supporting organisation for the Clean energy for EU islands initiative provides you with an opportunity to contribute your expertise to a community of pioneers in the clean energy transition and expand your network.
You can download the Declaration of Support here and e-mail it to info@euislands.eu. 
How can your organisation contribute to the Clean energy for
EU islands initiative? 
Look for your organisation type below to find out how to become a supporting organisation, and how you can contribute to the EU-wide island clean energy transition.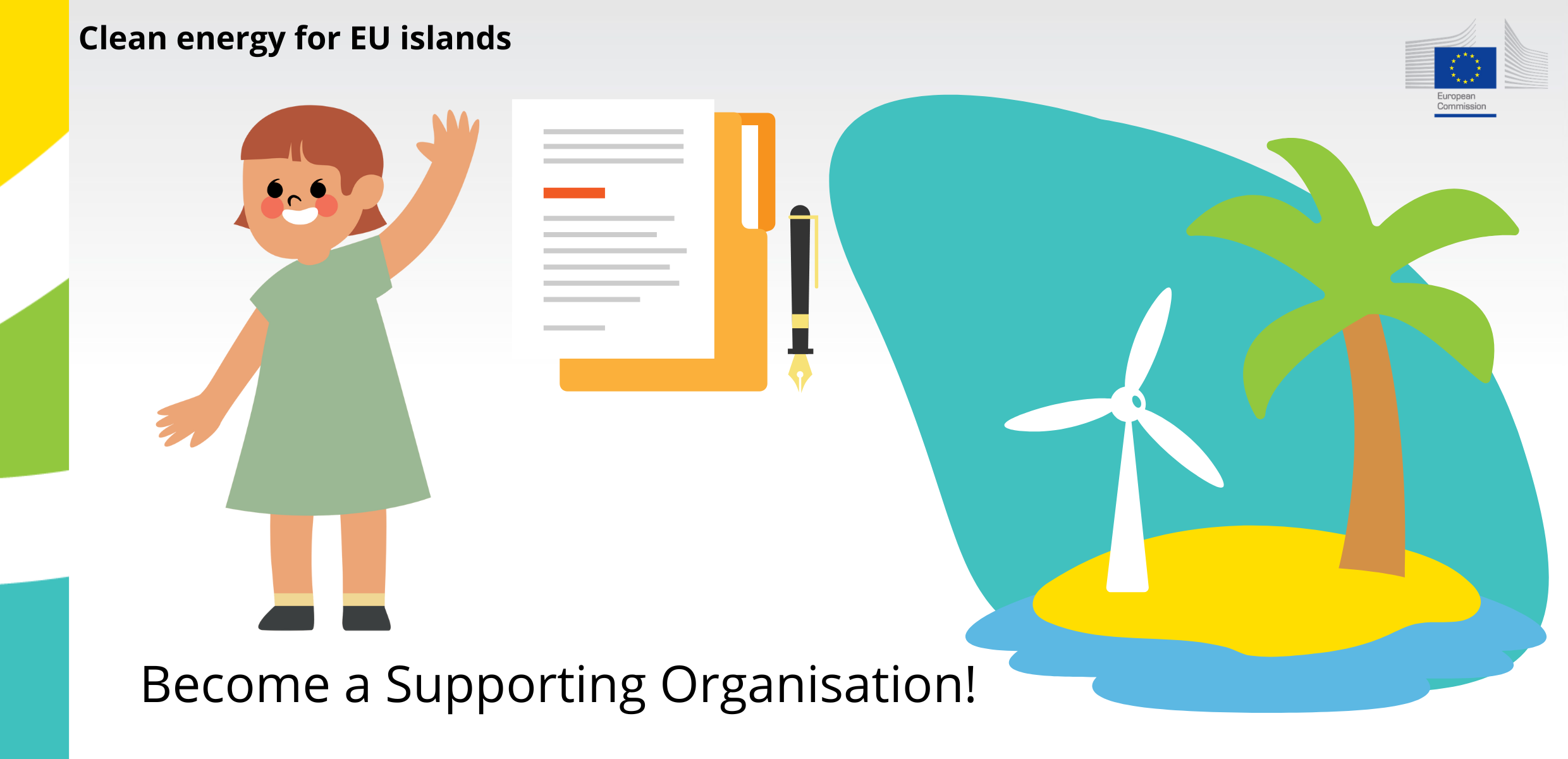 Civil Society Organisations
As a civil society organization, you can support the Initiative and EU island communities by
Monitoring and holding accountable national/regional/local authorities and businesses for their duties and responsibilities
Leveraging your own communication tools to disseminate news and relevant materials from the Clean Energy for EU Islands Initiative
Developing other publications to translate/adapt them to national or regional context
Helping to keep the necessity of global/(trans)local action for the energy transition of the EU islands high on the public agenda
Organising events (e.g. workshops, seminars, conferences) specifically focusing on the energy transition of EU islands, and help the Secretariat identify relevant events
Within the Initiative's Online Community, you can further
contribute by sharing relevant news and/or events.
Share good practice examples and suggest relevant tools and materials
Public Authorities
As a public authority, you can support the Initiative and EU island communities by
Organising events (e.g. workshops, seminars, conferences) specifically focusing on the energy transition of EU islands, and help the Secretariat identify relevant events
Informing local stakeholders from business, academia and civil society organisations of the territory about the Initiative, and encourage them to join
Developing an incentivising policy framework that facilitates the development of projects according to the locally developed Clean Energy Transition Agendas
Within the Initiative's Online Community, you can further
Inform the members of the Clean Energy for EU Islands about potential synergies in the national, regional, and local context
Help the members of the Clean Energy for EU Islands mobilize financial support, inform them about potential financing sources for the development of Clean Energy Transition Agendas, as well as the implementation of the envisioned projects
Share relevant news and/or events
Academia & Educational Institutes
As an academic or educational institution, you can support the Initiative and EU island communities by
Promoting the Clean Energy for EU Islands Initiative, mobilising existing and potential members of the Clean Energy for EU Islands Community
Participating in Clean Energy for EU Islands Initiative activities
Organising conferences, technical seminars, capacity-building events, and info-days specifically focusing on the energy transition of EU islands
Within the Initiative's Online Community, you can further
Share relevant news and/or events.
Provide information about European projects and help island stakeholders from local authorities, local businesses, and civil society to get involved
Facilitate the development of relationships and networks with, among, and between experts and islanders by providing linkages, knowledge sources, and direct contents
Business Associations & Technology Providers
As a business association or technology provider, you can support the Initiative and EU island communities by
Organising events (e.g. workshops, seminars, conferences) specifically focusing on the energy transition of EU islands, and help the Secretariat identify relevant events
Within the Initiative's Online Community, you can further
Provide accurate advice on cutting-edge technologies that can enable the clean energy transition of EU islands
Share good practice examples and suggest relevant tools and materials
Provide linkages and facilitate the development of relationships and networks with, among, and between technology providers and islanders engaged in the transition to clean energy sources
Official documents