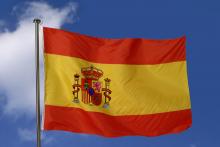 Spain has 48 inhabited islands. Eleven of 16 islands are grouped in two major archipelagos: the Balearic Islands with the islands of Ibiza, Formentera, Mallorca and Menorca; and the Canary Islands with the islands of Fuerteventura, La Gomera, Gran Canaria, El Hierro, Lanzarote, La Palma and Tenerife. The Canary Islands together cover 7 493 km2, which corresponds to 1.9% of the total area of Spain. Tenerife is the largest island in the Canary Islands archipelago (2 034 km2) The 4 Balearic Islands cover a total of 4 992 km2. The largest island is Mallorca (3 640 km2). The Spanish islands around peninsular Spain tend to be smaller in size (<10 km2). Of the total population of Spain, 7% lives on the Balearic and Canary Islands. This corresponds to 3 447 717 people. From the point of view of electric regulation, Ceuta and Melilla, the two autonomous cities bordering Morocco, are considered as electrical islands as well. Therefore, the Canary Islands, Balearic Islands, Ceuta, and Melilla are defined as non-peninsular territories of Spain. The Autonomous Community of the Canary Islands has its own Parliament and President. The islands have 14 seats in the Spanish Senate. Autonomous island status and their own tax system are both mentioned in the constitution. Furthermore, there is special legislation set up for the autonomous regions.
Clean energy national targets
The Integrated National Energy and Climate Plan for Spain for the period 2021-2030 aims to increase the share of renewable energy in final energy consumption of electricity to 74% in 2030. In the heating and cooling sector, the target is to increase the share of RES-H&C to 31% by 2030. The Spanish target for 2030 is to reach a 28% share of renewables in the final energy consumption of the transport sector.