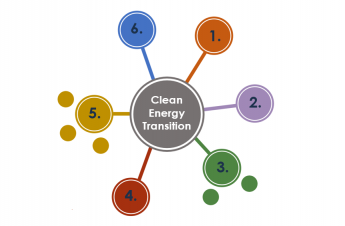 The self-assessment matrix is a tool to help islands develop their clean energy transition agenda.
The Island Clean Energy Transition Agenda is a strategic roadmap for the transition process towards clean energy. It is designed by the local community, for the local community. 
Starting from an examination of the current dynamics on the island, the Clean Energy Transition Agenda spells out a vision of the island that is shared by the members of the island community. The perspectives of different island stakeholders are aligned to work towards this common vision by identifying possible pathways, including common goals and effective strategies. This helps to overcome technical and financial barriers, but also barriers related to historic traditions, and cultural and social perceptions for the island's clean energy transition by mobilising all relevant stakeholders.
Besides the Transition Agenda's direct support to the transition process, its development also increases your visibility and broadens your network: Being part of an EU-wide network will raise awareness on your island's activities, and enable you to share your transition experiences with other islanders in order to help each other move forward effectively.
The self-assessment matrix is available here
For more information on the Clean Energy Transition Agenda, click here.