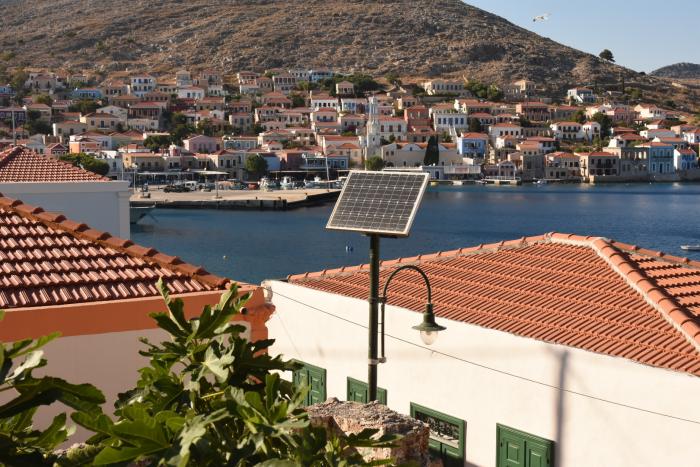 The  GR-eco Islands national initiative of the Greek Government aims to transform Greek islands into models of green economy, energy autonomy, digital innovation and ecological mobility. It includes actions such as the increased use of Renewable Energy sources, the creation of digital infrastructure, the promotion of energy efficiency, the sustainable management of waste and water, e—mobility and the electrification of transport, and the green transformation of agriculture and tourism and the development of part and other infrastructures, through targeted interventions and customised programs of the Ministry of Environment and Energy and the co-competent Ministries under the "umbrella" of the National Plan for Energy and Climate.  
Chalki – the first GR-eco Island  
Within this framework, on November 5, the Greek Prime Minister Mr Kyriakos Mitsotakis inaugurated on Chalki island the first project, a partnership of Greek and French companies, under the coordination of the Ministry of Environment and Energy.  
The choice of Chalki as the first GR-eco Island has a symbolic character, as it is an island in the barren line of the southeastern Aegean, part of the Dodecanese, which holds significant geopolitical interest in the wider region. In addition, it aspires to function as a model for the energy transition of Greek islands.  
The local community in Chalki is at the forefront of the energy transition. ChalkiON is the first energy community to own and operate a PV station on a non -interconnected Greek island, with the participation of the local authority. 
The design of Chalki's initiative covers the energy needs of the island. And the virtual net metering is the most appropriate method for the members of the ChalkiON to offset the energy produced by the polar park with the actual consumption of their electricity bills.  
After the collection of the data through the electricity bills of Chalki's residents, the energy needs of the island were calculated to 1.700MWh per year on overage, which makes the installation of the 1MW PV park able to qualify Chalki as the first energy autonomous island in Greece.  
The benefits in a nutshell 
ChalkiON (energy community) owner and operator of 1MW PV park 
55% electricity bill reduction for residents, businesses and the municipality of Chalki 
Annual savings of 180,000-250,000 euros per year 
Carbon reduction of 1,800 tons per year 
Chalki is well worth a visit  
As part of the Clean energy for EU islands secretariat annual forum, having taken place in Rhodes in May 2022, an exciting site visit to Chalki was included. The Mayor of Chalki, Evangelos Fragkakis Ευαγγελος Φραγκακης, welcomed the forum visitors and the deputy Mayor explained Chalki's clean energy transition plans. Find more information on the Clean energy for EU islands forum here. 
Link to What is the Chalki GR-eco Islands National Initiative? | Clean energy for EU islands (europa.eu) 
Link to Chalki Island Chalki | Clean energy for EU islands (europa.eu) 
Country