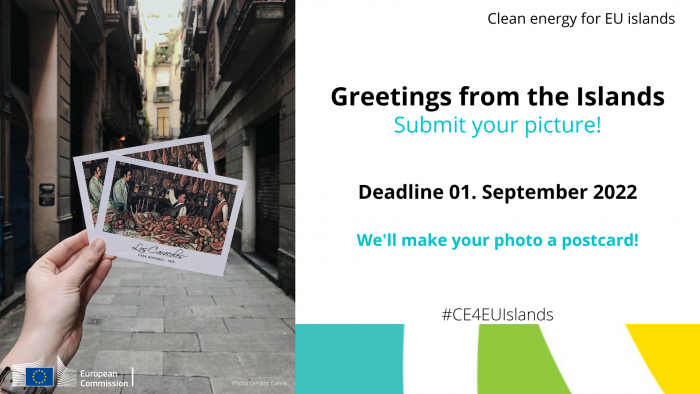 As summer is approaching and people go on vacation, it is time for our third Call for Postcards. Show us your summer pictures from EU islands! The Clean energy for EU islands secretariat is looking forward to beautiful pictures from all over the EU. Submit your photo until 01 September, 2022!
Are you a hobby photographer? Do you live on an island? Are you working for an island municipality? Or were you on holiday and impressed by the beauty of an island? No matter what, if you want to see your picture as a postcard, make it a Christmas present to the Clean energy for EU islands secretariat and submit it to: info@euislands.eu  
We kindly ask participants of the other calls to give a chance to new submissions and refrain from participating in this call. 
How does it work? Fill in this form and send it to our email address together with your picture and this copyright consent form. Please note that the assessment criteria for the postcard call are the following:
Uniqueness of Concept / Originality
Creativity
Overall Artistic Impression / Composition
Visual Appeal
What motifs can you submit? Almost anything! Landscapes, people (of course with their consent), renewable energy facilities and technologies.
The postcards will be posted on our social media, website, spread via email, printed to allocate them to our regional partners, and used for next year's Clean energy for EU islands forum 2023!
You can then download them, write down your island's story or message and send them back to us so we can publish them! Raise awareness of your island's projects or aims and show the community what you are up to.
For information about GPDR, check this document.