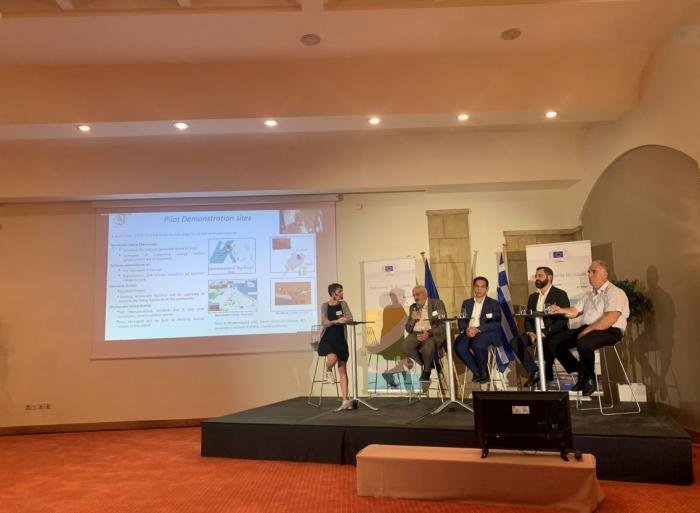 The project RE-EMPOWERED started a year ago (July 2021) with the goal to develop a set of solutions (ecoToolset) for efficient, decarbonised and RES-intensive multi-energy local energy systems. The tools and solutions will be demonstrated in four demo sites with weak or non-existing grid, two in Europe, (Denmark and Greece), and two in India.
The project is implemented in two pilots in Europe, Bornholm in Denmark and Kythnos in Greece, and two in India, Ghoramara and Keonjhar aiming to establish strong scientific collaboration and knowledge exchange between the two regions.
The ecoTool set includes 10 tools ranging from energy management and monitoring to digital platforms for energy communities. More information about the tools can be found here. 
The project has already been presented in the EU and in India, including the India Smart Utility week and the 2022 Clean energy for EU islands forum. In particular, at CE4EUIslands forum, Professor Nikos Hatziargyriou from the European project coordinator ICCS-NTUA participated in the panel session, ACT: Balancing interconnections and energy storage for the clean energy transition of islands. Mr. Hatziargyriou emphasized the opportunity offered by RE-EMPOWERED for knowledge exchange between EU and India. The session was joined by representatives from the Spanish national government, the Portuguese regional government, the industry (Greek TSO & utility company) and academia.
Colleagues of Imperial College London will visit Ghoramara island and Keonjhar demo-site guided by Indian partners CMERI and IIT-BBS respectively. Research visits at IIT KGP and IIT BBS will also take place in order to facilitate the exchange of expertise.  Additionally, knowledge exchange activities between VNIT and DTU will be initiated and a visit to DTU facilities will be organized.