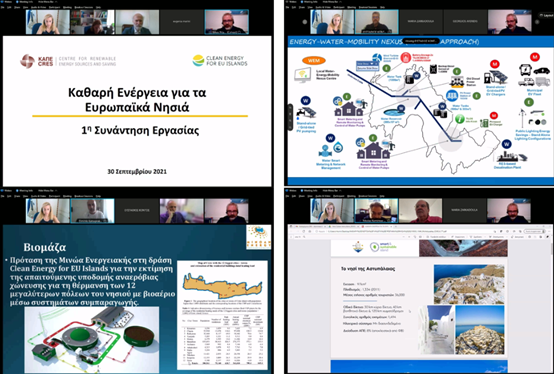 A very interesting regional meeting was held digitally on September 30, regarding the clean energy transition of the Greek islands, organized by the Centre for Renewable Energy Sources & Saving (CRES) and within the framework of the Clean Energy for EU Islands Secretariat.
The projects of the selected Greek islands that receive technical assistance cover a wide range of actions, including the development of e-mobility (islands of Kassos and Syros), solar cooling (island of Halki), solar thermal centralized hot water production (island of Symi), biogas district heating (island of Crete), desalination through the use of renewable energy (island of Tilos) and the development of a Clean Energy Transition Agenda (island of Chios).
In addition, CRES, as the regional partner presented the CE4EUI program and six more Greek islands, namely the islands of Agios Efstratios, Astypalea, Corfu, Nisiros, Trizonia and Kos, also presented their progress towards their clean energy transition. Great knowledge and experiences exchange!