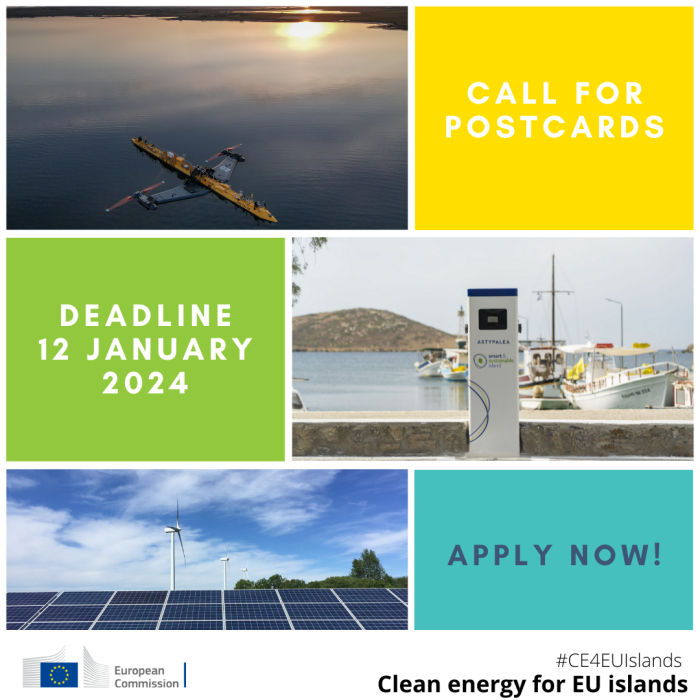 The leaves are turning and giving landscapes a touch of gold and red. This means that it is time again to start a Call for Postcards. Today, on 23 October 2023, we are starting our fifth Call for Postcards! The deadline for this call is 12 January 2024, allowing participants to capture the unique beauty of EU islands and their renewable energy sources in the winter season.
Calling all hobby photographers, island residents, and island municipality members! Regardless of who you are, if you aspire to see your photograph printed as a postcard and distributed at next year's EU islands forum, please share your impressions with the Clean energy for EU islands secretariat. Submit your shot to info@euislands.eu.
To ensure fairness, we kindly ask previous participants of our other calls to give way to new submissions and refrain from entering this call. Let's embrace fresh perspectives.
So, how does it all work? It's simple! Just fill out the provided form and send it, along with your picture and the necessary copyright consent form, to our designated email address. Please bear in mind that the postcard call will be assessed based on the following criteria:
Uniqueness of Concept / Originality
Creativity
Overall Artistic Impression / Composition
Visual Appeal
Wondering what motifs are eligible for submission? While capturing the beauty of our EU islands, remember to also to highlight their renewable energy aspirations! People can be part of your composition (with their consent, of course!) too.
DEADLINE: 12 January 2024
The selected postcards will be showcased on our social media platforms and website, and printed for distribution among our regional partners. Furthermore, they will be prominently displayed at next year's highly anticipated Clean energy for EU islands forum in 2024!