The EU islands forum in a nutshell (07- 08 June 2023)
95 participants attended the on-site event over the two days at Thule Koda, Saaremaa

121 participants took part in the live stream;

nearly 40 speakers;

6 workshops covering a range of topics technical topics as well as financial and sustainability discussions;

7 presentations and panel discussions ranging from why it is important for islands to become 100% renewable to lessons learnt from technical assistance to EU islands.

199 registered participants

62 participants took part in the site visit to

BWB – Baltic Work Boats

and the local presentation on

Saare Wind Energy – Saaremaa Meretuulepark.
With island communities and experts from more than 15 EU countries the EU islands forum explored and discussed how to get to 100% renewable energy islands. Kadri Simson, European Commissioner for Energy, European Commission, launched the "30 to 30" challenge. Where 30 islands will be selected to receive support to get to 100% RES by 2030. Find more information on the call here.
Day 1
Welcome by Jan Cornillie – Project director, Clean energy for EU islands secretariat (3E), stressing the importance of ownership and involvement of local communities in the clean energy transition.
Mikk Tuisk - Mayor Saaremaa: emphasising the renewable energy potential of Saaremaa, highlighting the availability of solar and wind resources on the island and the importance of the grid.
Eero Ailio - Senior Adviser Energy Transition, DG ENER, European Commission: focusing on accelerating the green transition and asking EU islands to be bold.
Panel Discussion: Making 100% renewable energy islands: Why and How?
Participants: Pau de Vilchez Moragues from UIB (Spain), Reuben Irvine from the Island of Yell, Shetland (UK), Pauline Lucas from Euroheat and Power (Belgium), James Ellsmoor from Island Innovation (Portugal), Moderator Alexis Chatzimpiros – Samsø Energy Academy (Denmark)
Keynotes on climate change, clean energy and island communities about the urgency to act on decarbonisation, involving people through policy and citizens assemblies, as well as community climate action plans but also noting the lessons for global islands, overcoming challenges and showcasing replicable solutions.
Workshops on a range of topics such as habitability, offshore wind development, heating & cooling, funding and finance as well as hydrogen ferries are presented in a separate news item – please find it

here

. 
Panel Discussion: Island grids, storage and DSOs (moderator: Kostas Komninos - DAFNI (Greece))
Konstantinos Kyparissis - Eurelectric (Greece): Energy transition's relation to the industry and challenges faced by island grids. Regulatory aspects, including bundled and unbundled systems. Importance of grid stability and adapting to bi-directional energy flow. Market size constraints and limited technological providers. Need for a mixed generation approach.
Terje Talv - Estonian Wind Power Association (Estonia): Shift in grid dynamics from east to west in Estonia. Saaremaa's role as the new energy hub. Time and financial constraints as bottlenecks.
Claire Helly - CPMR Island Commission (France): CPMR Island Commission's role in advocating for EU policies and interregional cooperation between islands. Projects like Twin Solar and MASESHA involving local communities.
Elise Van Dijk - Th!nkE (Belgium): Th!nkE's role and previous study results including barriers of grid constraints and security of supply. Importance of strategic planning, coordination, and community involvement. Lengthy authorization processes. The need for support tailored to island needs.
Nuria Albet Torres - La Palma Renovable (Spain): Regions' desire for smaller energy systems and involvement in planning. Local variance's significance in the energy transition. Discussion on integration cap for renewables.
Presentation - European Year of Skills: A View from the European Youth Energy Network (Hubert Put – European Youth Energy Network – EYEN)
The European Youth Energy Network (EYEN) is a federation that focuses on engaging and empowering young people in the energy sector and promoting sustainable energy practices. EYEN aims to place youth at the heart of the energy transition by creating opportunities for them to actively participate in shaping the future of energy.
Panel Discussion - Wrap up and concluding keynote
Jan Cornillie, Project Director of Clean energy for EU islands secretariat (3E), highlighted the practical aspects of their island work. One of the topics to be discussed soon is the launch of a call for technical assistance. This initiative aims to support clean energy projects and initiatives on EU islands.
Eero Ailio, Senior Adviser for Energy Transition at the European Commission's Directorate-General for Energy (DG ENER), emphasized the concrete issues being addressed at the EU Islands Forum. One of these issues is the development of a new tool to assess the habitability of islands. Additionally, Eero emphasised the importance of engaging with the people on the islands, understanding what factors drive their acceptance or resistance to changes, and incorporating their perspectives into the decision-making process.
Edita Dranseikaite, Policy Officer at Clean Energy for EU Islands (CE4EUI) within the European Commission, expressed gratitude for the motivation and passion displayed by the individuals involved in the energy transition on the islands. The European Commission is actively listening to the needs of the island communities and using this feedback to shape EU policies. Edita emphasized that the energy transition is already underway and highlighted the Commission's commitment to supporting and facilitating this process.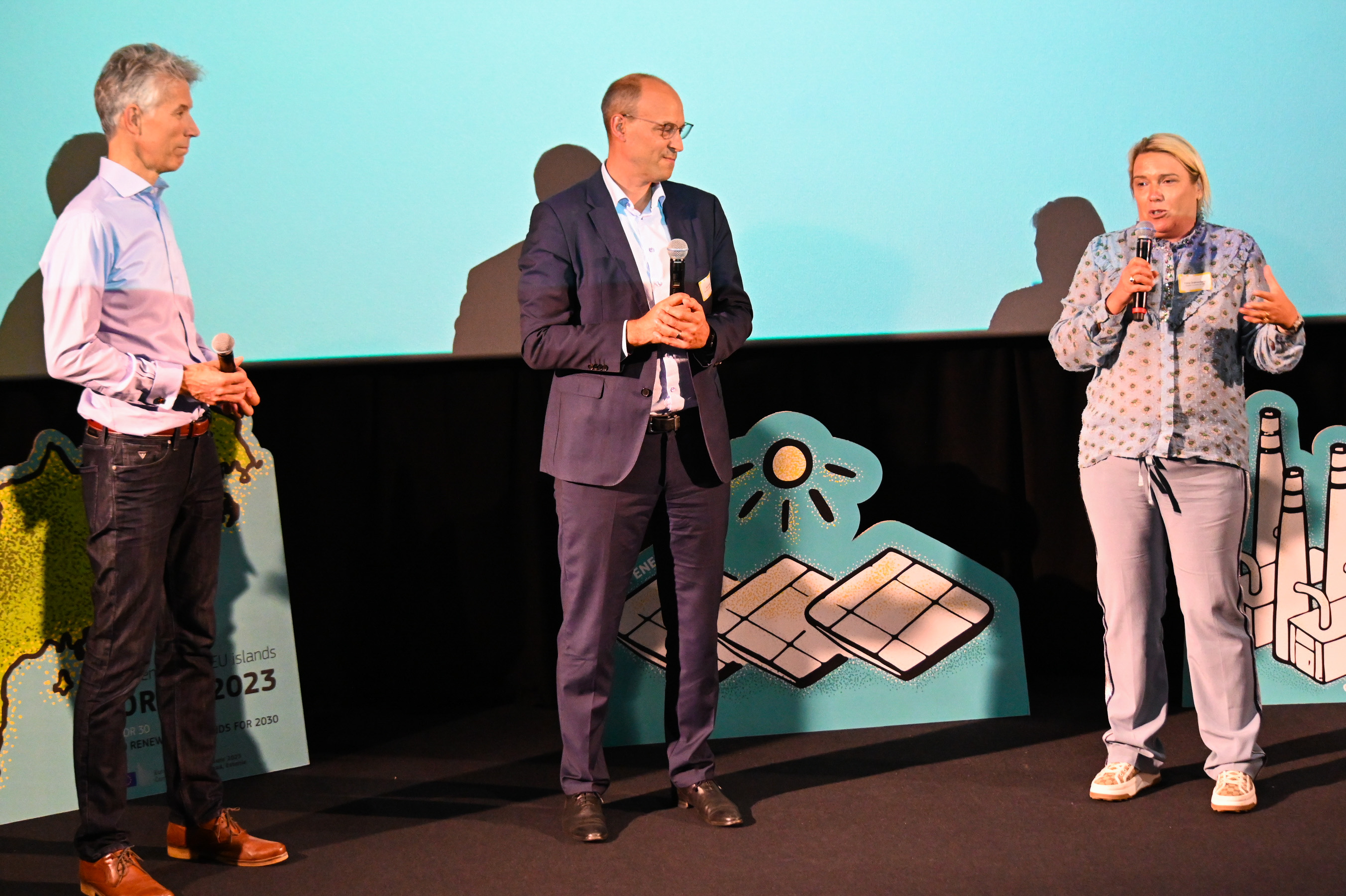 Day 2
Welcome to the Day by Edita Dranseikaite – Policy officer CE4EUI, European Commission
Keynotes and launch of the call for 30 renewable energy islands
Kadri Simson - European Commissioner for Energy, European Commission: The key message of Kadri Simson's keynote speech was the fundamental change in Europe's energy provision and the importance of islands in achieving cleaner, greener, and more affordable energy and the launch of the call for technical assistance 30 for 30.  
Watch the recording.
Panel Discussion - Lessons learnt from the technical assistance to the islands
Participants: Jan Cornillie – Project director, Clean energy for EU islands secretariat (3E), Petros Markopoulos – Clean energy for EU islands secretariat (DAFNI), Dr. Cécile Barrere & Mario Cortese – Island Facility NESOI (R2M)
Key Findings from Technical Assistance to the Islands:
The Clean energy for EU islands secretariat (3E) has provided techno-economic support to 40 islands, focusing on stakeholder engagement and connecting stakeholders. They have compiled pre-feasibility studies on clean energy technologies for different islands. Three technical examples include renewable desalination with wind and solar energy on Chios, assessing the feasibility of floating offshore wind and solar PV for island self-consumption and electrification of ferry transport on Halki, and electrifying a fishing fleet with solar and wind on Arousa. Assistance needs to translate into actual projects. DAFNI has supported 13 NESOI projects, aiming to promote energy transition investments, facilitate the transition, and provide technical assistance. Challenges include the difficulty for local authorities to apply for support, the need for external support to create proposals, and limited knowledge about national regulations and financing tools. The Island Facility NESOI has supported 54 projects, focusing on technical assistance and capacity building. Strong local involvement and social acceptance are crucial for project success. Lack of project development skills is a challenge, and the recommendation is to establish an energy transition office for continuous efforts. Islanders can learn from each other through networking and knowledge sharing. Overall, the key findings highlight the importance of stakeholder engagement, pre-feasibility studies, social acceptance, and skill-building for successful clean energy projects on islands. Additionally, support from external entities and access to relevant data and financing tools are essential for enabling energy transitions.
Technical briefing on call for technical assistance (streamed)
Moderation: Sarah Bogaert & Elise van Dijk – Clean energy for EU islands secretariat (Th!nk E) (Belgium)
Information on the call for technical assistance can be found here Call for application of interest for 30 renewable energy islands | Clean energy for EU islands (europa.eu)