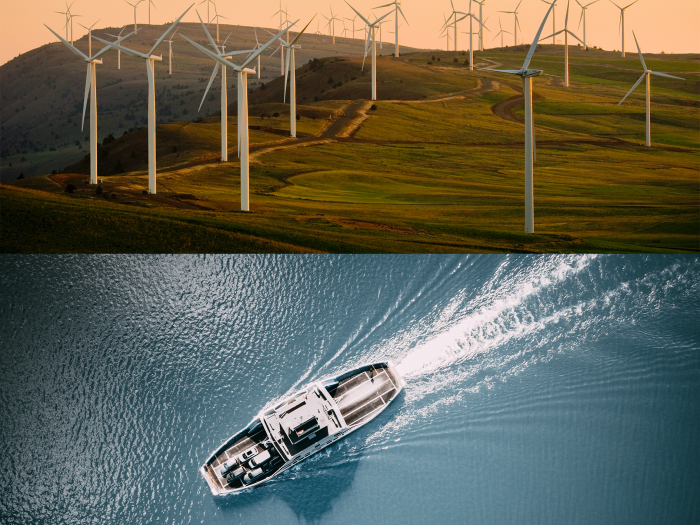 This third in a series of podcasts engages two islanders working on very different, but very relevant topics. One is the Ærø Island with its Ellen Ferry that connects it to the Island of Als and the other one is Tilos, which is working on its grid. 
Host: Hello, and welcome to our podcast; Voices from the Islands, a journey to a clean energy future for EU islands. The podcast has been produced by the Clean Energy for EU Islands Secretariat, and I'll tell you more about that secretariat later. But first, let me tell you about the podcast. Our intention is to try and be useful to you if your island wishes to make the journey to transform to the use of clean energy. Perhaps you've already taken some steps involved. In this podcast, we're focusing firstly on a very specific issue at the request of our listeners. A lot of islands which have carried out surveys find that the greatest polluter is the diesel ferry that delivers passengers to and from the island. So, what's involved if you wish to try and get an electric ferry? And secondly, we'll be talking about microgrids and smart grids of electricity. 
Our interviewer, as always, is John Walsh from Bere Island off West Cork in Ireland, and he first spoke to Halfdan Abrahamson from the island of Ærø in Denmark. They've developed a magnificent electric ferry, the Elen. What was the driving force?
Halfdan: We basically had no choice because the city council are quite ambitious when it comes to reducing emissions, and as is typical with a lot of islands, ferries are the main emitters traditional diesel ferry really is a heavy emitter of not only greenhouse gases but also rather unhealthy particles.
Host: So, Ærø, a Danish Island in the Baltic sea, some thirty kilometres long with a population of about 6000, crucially with people in positions of leadership who are pushing the clean energy agenda, a strong maritime history, and with access to ship designers and builders.
Halfdan: The local ship architect, Jans Casterson, he had designed a really energy-efficient hull, and the ferry company were considering powering it with liquid natural gas, but the architect was talking to one of the teachers from the Master's School of Navigation, he is a bit of a battery expert, and Jans asked Heimlich, the teacher if he thought that going fully electric was an option instead of going with liquid natural gas and Heimlich said yes, he would make some calculations, he did, and he said I think it looks viable. Then more people got involved, for instance, we have a committee that works with renewable energy, a committee that comes from various professions on the island. They are unpaid, but they have a bit of influence because the municipality listens to what the committee finds out, and they thought it was a good idea and my predecessor here at Ærø Energy Lab, he started applying for funds, and he started locating partners who could deliver the technology, for instance, the batteries and the engines. And when he had secured funds from the Horizon 2020, EU Horizon 2020, then the council gave the green light to the project and then we started in earnest.
John: Halfdan, if you could explain what kind of ferries were on the route previous to the electric ferry, what size ships were they?
Halfdan: The previous ferry is actually still in operation, it's our veteran ferry called Skolness from 1978. It used to sail a B-route to two destinations, but we were able to increase the service when we put the e-ferry on into operation. The e-ferry takes up to almost 200 people and 31 cars. 
Usually, we only sail with a crew of three persons, and that means we can only take up to 150 people. One of the things that makes a business case great with the e-ferry, Elen, is that we actually don't need to sail with an engineer on board, which is quite unusual, and that's because of the simplicity and reliability of the systems, so we sail with a reduced crew and operation expenses are quite low, maintenance expenses are quite low, which is certainly not the case for the old diesel ferry from 1978.
John: And what actually powers Ellen? What's she running on?
Halfdan: It's 100% electric. We don't have an emergency generator or any diesel on board, and we produce more electricity than we use with our six wind turbines. 
We are connected to the mainland with an ocean cable, but in reality, a lot of Ellen's juice would come directly from the wind turbines here on the island. They are community owned; I think that helps a lot with acceptance of the turbines in the landscape because turbines can be rather ugly in the landscape, except when you own them yourself, then they're rather beautiful.
John: And the practicality of charging Elen; does she only get charged when she's on the island side, or can she charge and go places?
Halfdan: Right, she charges in the home port here on Ærø called Seabulg. There's an important issue connected with that because when you develop an electric ferry project, you have to think a lot about strategy; do you want a charger in every port, or do you want to supply more batteries from the beginning so you can sail a longer distance without charging, because the infrastructure on land is extremely expensive and for instance, if you are in a small community with a grid that isn't so strong, then you might be in trouble delivering enough energy to maintain the frequency that the passengers want.
John: Okay.
Halfdan: But we have a good grid on Ærø because we've been experimenting and using renewable energy for many years, so the electric company has ensured that we have a good grid, so that's one reason why we could do the e-ferry.
Host: As Halfdan says, it's a kind of a balancing act between the number of batteries and the number of charges.
Halfdan: What we do is we charge fully during night, then we sail two trips where we just spot charge for ten minutes and then after the third trip, then there's a lunch break, and then we basically top it off once again, and we could basically continue doing that where we sail three times before topping off the batteries completely.
John: Who designed the propulsion system? Maybe explain a bit about the propulsion system and how it works.
Halfdan: Our engines, our two main engines are rated at 750 kilowatts, and they were designed in Finland by a company called Visedo. But Danefas, a Danish company, actually on the island where we sail to with the Ellen, they saw that this would be an important technology in the future, so they actually bought Visedo. That means that the company that does the engines are right across the water now, which I guess is a benefit to us.
John: And what battery capacity? You said you have a good battery capacity; what are you talking about there?
Halfdan: 4.3-megawatt hours and the batteries are supplied by Lucanshe, who is a Swiss-German company, and they are one of just very few battery companies who are certified to produce maritime batteries. Of course, safety measures have to be really strict, and they have to be very reliable and not prone to overheating, so they are very good batteries.
Host: So, the engineers and the designers all thought it was a good idea to develop the ferry powered by electricity, but how did the passengers feel about it?
John: I know the community might be used to renewable energy on land, the people that use the ferry, the island residents and the tourists visiting, what they think about using electric ferry like it was new technology, were they fearful or were they happy about it?
Halfdan: That's a good question because we have 6000 on Ærø, and that means we have 6000 ferry directors on Ærø. The ferry was paid also with taxpayer money, so of course it was a hot potato and a lot of people thought "no, this is too risky, don't waste our money on a project that won't ever become a reality, that will break down and be dangerous.".
Host: But it doesn't break down and it's less dangerous.
Halfdan: The energy density in batteries is very low compared to the energy density in diesel oil, so it means explosion, there's a lower risk of explosion. Furthermore, the wires are bolted tight, so even if the ferry is in a really awkward position because of winds or waves, we can't lose the fuel transmission, everything is bolted in. So, I actually feel more safe on an electric ferry, but not everyone felt that way. 
But now it's very different people are really proud. It has been sailing rather problem-free from the beginning. We understand that we have made a lot of headlines basically across the world when we launched it, so people are really proud about it now.
John: That's what I was wondering as well. The master of the vessels, or the crew, are they very confident with the ferry as well? Did it take a while to change attitudes of captains and crew?
Halfdan: No, actually, of course, the crew was selected on the condition that they thought it was a good idea and they were prepared to be visited on the bridge by journalists and tourists, etc. We knew it would be a big thing. They love sailing electric because the acceleration is really good, you know, from an electric car when you step on the, shall we say, on the electric pedal, things happen really quickly, and that's how it is on the ferry, the acceleration is rather remarkable, there's no spool-up time, so actually we had to electrically limit the transfer of energy to the propellor because it's so fast you could actually burn the engine if you didn't limit it in some way. But it actually means safer navigation because they react within seconds, and it means it's easier for the crew to react to sudden situations that could arise.
Host: So, on the island of Ærø, a lot of hard work has been done designing their ferry, the Ellen, but now designers are trying to use that knowledge to allow the building of ships for other islands and locations that can be scaled according to the local needs.
Halfdan: Standardisation is only just beginning now, and we would like to make our contribution because we feel that the e-ferry model and design has proved itself, so together with different partners, including the ship architect here from Master, Jans Casterson, we're developing a standard model that you can scale for various routes, and that will give buyers a security that this is a working concept that they can rely on.
Host: The Ellen was developed under e-ferry, an EU-backed project. Altogether, it cost over 28 million euros, but that included major sums for research and separately for electrical facilities on the island. But its operating costs are much lower than a traditional diesel ferry, and it is expected she'll save the release of at least 2000 tons of CO2 per year. Have a look at her on the website visitaeroe.com. I'll pronounce that phonetically; visitaeroe.com. There's a wonderful virtual tour of the ship, and that address again is visitaeroe.com.
Host: Okay, from the Baltic Sea, we move south to the Greek islands. There are thousands of Greek islands, and around 200 of them are inhabited. Kostas Komninos is a director of an organisation called DAFNI, the Network of Sustainable Greek Islands. And unsurprisingly, the issue of electrical power is an important part of their agenda. John Walsh wanted to talk to Kostas about electrical grids, microgrids, and smart grids.
John: So, today we might speak about smart grids and about microgrids, and you have a lot of experience in both, so maybe you might just give us some outline of what is a smart grid and what is a microgrid?
Kostas: This is in very broad terms of what a smart grid is. The traditional grids, they have no communication, there is like a black box, and the electricity flows from the production to where there is the demand. 
In smart grids, there is a bilateral communication, and the load can receive a message from the production and regulate their consumption, decrease the consumption or increase the consumption based on the time or the conditions of the system. On the other hand, the microgrid is usually something very limited in size, we'll say in length, that's why they're called micro, and usually covers areas which are insular or remote, either, you know, in the desert or in very small islands, and there is a kind of categorisation also from the EDSO, the European Distribution System Operator, let's say that up to 50 households connected on a grid could be considered a microgrid.
Host: Okay, so a little bit complicated. Let's consider the constituent part of a microgrid.
Kostas: So, a microgrid mainly it is a standalone system, not connected with any other bigger system, that's why it is a micro standalone grid, so we have the main component, which is a production unit, either it's a thermal or renewable, usually has some storage because it is, you know, it is independent standing alongside has to have some reserves. There's a distribution grid, usually only low voltage or sometimes medium voltage, and there's also the load, so there's the consumption from the users. So, this is a small scale, it's a neighbourhood or district scale grid, not connected with other grids.
Host: Okay, so you can generate electricity, you can store electricity, you can distribute electricity on a small scale in a microgrid. What happens for it to become a smart grid?
Kostas: So, when we talk about a smart grid, what usually applies is that we start having more communication on the system, so there is like a bilateral communication between the demand, so let's say our households or any kind of load and electricity consumption and the production units, and what this can enable is a more flexible and dynamic operation of the systems, the electrical systems.
John: Okay. And is the like say for the small islands of Europe, do you see a role for microgrids and smart grids for the energy use of these islands?
Kostas: So, what is the current combination of smart grids and microgrids? So, there is a new architecture for distribution systems beside of having more distributing electricity from central units, let's say an island, you should increase, the islands that have thermal production units using diesel. 
There are also some renewables, but in most cases, you have some remaining fuel covering a part of the demand. What is the discussion now is that we start having not a radial distribution, but we have clusters of microgrids in different neighbourhoods and they could be connected by the distribution system operator with a grid that can actually enable the transferring of electricity from a microgrid to another microgrid.
Host: So, what's the advantage of that? Being able to transfer the power?
Kostas: So, let's say that we have, you know, some settlements in a rural area. They can actually produce and consume their own electricity at their area, the village, and if there is the need for any more electricity, they can borrow it, let's say, from the near settlement. So, the distribution grid at this point would then enable this transferring of electricity from a microgrid to another microgrid. This is the so-called new architecture of the distribution grids, and the distribution systems, and the islands can be an example for this new architecture.
John: You're working on a project; you have information on a project from an island called Kythnos. Can you explain what is happening with that project?
Kostas: Yeah. Well, Kythnos is actually the host of the first microgrid in Europe. There has been the establishment there back in early 2000 is the first microgrid in an island in a Summer, let's say, settlement of ten houses and this is not directly connected with the rest of the island, so this microgrid in Gaidouromantra Beach, that is the name of the beach. It is not connected to the rest of the distribution grid of the island and consists of some PVs, a few PVs on the houses. This generator is a backup battery and all the rest of the equipment that is needed, you know, like inverters and different charging inverters for the PVs and for the batteries, so actually what we're trying to do there is actually to renovate this microgrid and make it a contemporary microgrid and try also, as we tried before, to connect it with the distribution grid of the island and when there is a surplus of electricity from the microgrid, and we are covering the electricity demand of the ten settlements, we can actually export part of this electricity surplus to the island.
Host: Kostas is involved in interesting work and as he explains, funding for it comes from the EU and what's more, it links EU islands together, and in this case, even connects to a different continent.
Kostas: So, this is a collaboration under the project called Reempowered, it is a Horizon-funded project. It actually includes another microgrid of the Bornholm Island in the Baltic Sea, and it's a collaboration between the EU and India. So, this is an example of how they experience the technological innovation in Europe that can actually be used in other countries, and in this case, in another continent in Asia and in India and in rural areas in India, for the rural electrification of settlements.
Host: Kostas reckons there's a great future for microgrids and recent technical improvements mean it has become easier for microgrids to connect together.
Kostas: It's one of the main issues for microgrids, whether you need diesel generator that has actually rotating systems to reach the needed frequency and then actually you couple the PVs, but now the new PV inverters, they can actually even deliver black start and give you the frequency that is needed for the microgrid. So, we can have purely renewable-based systems for the islands, they will and reliable as long as we maintain the distribution grids, and you know we do all the things that are needed for the equipment.
Host: So, we've been listening to some of the experiences of people working hard on their journey to a clean energy future. It's very clear the journey involves complicated and diligent cooperation between people on all levels of society, but the good news is that there's always help available from the clean energy for EU Islands Secretariat. You've been listening to Voices from The Islands, a journey to a clean energy future for EU islands. We'd like to thank Halfdan Abrahamson, Kostas Komninos, and John Walsh. The Clean Energy for EU Islands Secretariat and this podcast are an initiative of the European Commission made possible through European funding. To learn more or to join the action. Why not check out our website? The address is "clean-energy-islands.ec.europa.eu". I'll say that again, so if you have a pen, it's "clean-energy-islands.ec.europa.eu". And I'd like to draw your attention to what we think is a really helpful booklet that you can download from the site; it's the technology solutions booklet. It provides an overview of energy technologies currently commercially available to islands to advance in their clean energy transition, and you can easily see the various technologies available and being used. They are grouped together by sector, electricity, heating and cooling, transport, and storage, and for each technology, you get a short description followed by its pros and cons in its implementation on islands. So, it's well worth having. You'll find it on our website, I've given you the address, and on the site, just search for the technologies solutions booklet. And if you do go to the website, you'll see we're effectively a one-stop-shop for Europe's Island communities transitioning to clean energies. Whether you're looking to connect with other island communities, perhaps technical experts, if you need support on project development or if you're just looking for practical materials to help you advance the transition on your island, you'll be in the right place. Thank you.