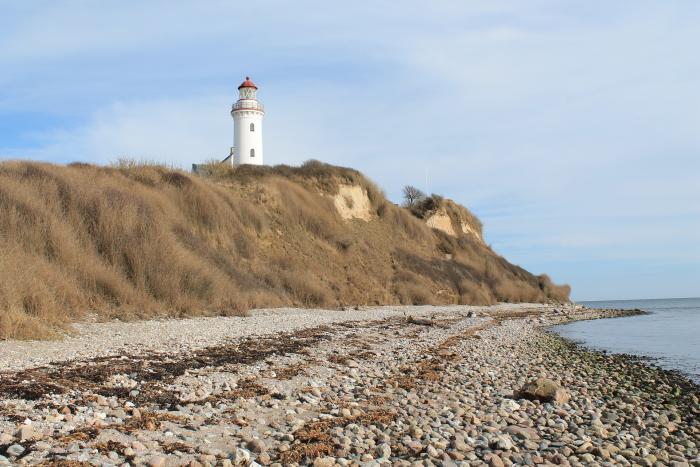 This first in a series of podcasts tell the story of two very different islands. One, already extremely advanced in their clean energy transition and one, just about to start this beautiful journey. 
Søren Hermansen speaks about his experience with the transition of the Danish island Samsø, how they engage people with the Samsø Energy Academy and how they overcame difficulties. On the other hand, Wendy Reid speaks about how the small Irish island of Ulva is about to start its clean energy transitions, the whys and hows and what they already achieved. 
Host: Hello and welcome to our podcast, "Voices from the Islands: A Journey to a Clean Energy Future for EU Islands". The podcast has been produced by the Clean energy for EU islands secretariat and I'll tell you more about that secretariat later. But first, let me tell you about the podcast. Our intention is to try to be useful to you if your island wishes to make the journey to transform to the use of clean energy. In this podcast, we speak to a leading figure on the island that is well advanced in the use of clean energy, the island of Samsø off the coast of Denmark. Mind you, Samsø has a permanent population of nearly 4,000 people. And we also speak to a leading figure from the Scottish island of Ulva with a population of just 8. Ulva is pretty much at the start of their journey. The main interviewer in the podcast is John Walsh from Bere Island off the coast of West Cork in Ireland, with a population of just over 160 people.
So, who are we talking to? We're talking to Søren Hermansen who is the Chief Executive of the Energy Academy on the Danish Island of Samsø, and we will be joined by Wendy Reid from the Scottish Island of Ulva, both talking about their experiences. But let's start with John welcoming each guest individually and let's have them tell us something about their island.
John: So first of all, Søren you're very welcome to the podcast so thank you for agreeing to do it. So, first of all, maybe can you explain where Samsø is and maybe the size of the population and what kind of industry is on there?
Søren: So, Samsø is in Denmark which is north of Germany and between Norway and Sweden and Germany in Kattegat which is part of the North Sea and the Baltic Sea and Samsø is about 30km long, its 120km is about 30km long, its 112km², I don't know in miles in your language, but we have about 3,800 people living on the island permanently. We have a big tourist destination also. I'm born here, I'm from the island so I grew up in Samsø and I am now the permanent what do you call it CEO or the leader of the Samsø Energy Academy which is a consequence of a 20 years' experience of a transition from oil to sustainable energy and development on this island.
John: I'm joined here by Wendy Reid, so how you doing Wendy?
Wendy: I'm well, thank you.
John: Where are you based at the moment, where are you now?
Wendy: So, I live on the Island of Ulva which is a small island that is located off of the northwest coast of the Island of Mull, which in itself is located off the west coast of Scotland. So, we're an island off an island essentially. Ulva is about just under 2,000 hectares in size so it's about 9km long by 4km wide. At the moment, we have a population of 8 people. At its peak in the 1800s, though, the island did support a population of between 600 and 800 people. I mean, even 20 odd years ago there were maybe between 15 and 25 or 30 people, the population fluctuated but you know there were up to 30, you know 20 to 30 years ago so we're all within 10-to-15-minute walk of each other. There are 6 kinds of residential properties that are here that have been left in sort of habitable conditions although they're all below tolerable standards, and as I say 3 are occupied and 3 are currently empty.
Host: So, two very different islands, and as Søren says he has long experience of the journey towards clean energy. On the other hand, it's only in the last 3 years that Ulva has effectively become the property of its residents. Before that, the entire island including its assets were privately owned. Now, they are thinking of the future and how to get more people to live there.
Wendy:  To bring it back as a vibrant community through repopulation and economic regeneration activities, and the two kinds of go hand in hand really as you know you can't really attract people to live on Ulva if there is no opportunity for people to work on or from Ulva. In the last season before lockdown, we had about 7,000 visitors a year and prior to that even when it was in private ownership there was maybe you know 4,000 to 5,000 people coming over. Because it's only a 2-minute ferry journey or boat journey from Mull across to Ulva. It's a fairly important environmental habitat but only being 2 minutes across from Mull there is an opportunity for people to live on Ulva but work on Mull, or to develop businesses around tourism on Ulva itself. So, the community when they did the buyout went through a whole business planning and feasibility study process and the aim is to try and repopulate to a tune of maybe between 50 and 70 people over the next 10 years or so. So, to gradually enable more people to live on Ulva. Whether they work here or not will depend on what they do. So, for instance, I'm living on Ulva and I work remotely so I do all of my work streaming 4G from a 4G mast it's just that we have line of sight of. So, digital connections are good, it's possible to work and run a business from Ulva that is not necessarily about anything physically on Ulva.
Host: So, Ulva knows it wants to grow its population. But they also want to protect the wonderful environment they have, and they recognise that clean energy is going to be an important part of that. The journey starts. But let's shift back to Samsø and get a sense of the significant work they've been engaged in for years.
John: Where is Samsø on the journey at the moment? Like, are you 100% renewable energy or are you nearly there or are you past it?
Søren: So, the first master plan we produced in 1997/1998 that was kind of submitted to a competition to be the Danish energy island was focusing on changing from oil to green energy. So, we put up wind turbines to fuel electricity demand, we produce about 25,000,000KWh per year from 11 1MW wind turbines on land and they are doing really good, and they were erected by local people, farmers and citizens and people who lived on the island, and they owned them and kind of put the revenue in their pockets and used that to invest in other projects. For heating, we put up four district heating plants. District heating is instead of having individual heating systems in houses, which was mainly oil, we knew that we had a lot of resources in biomass on the island like wood and straw from wheatfields and we tried to kind of make an evaluation how much could we exchange, and we found out we could easily fuel the whole island with the heat demand in fuel from biomass. So, we built four district heating plants and today we fuel about 75% of all houses with biomass locally produced, and also in combination with solar. We had some oil furnaces left over after the first 10 years but today, after 20 years, they are almost exchanged with heat pumps because heat pumps today has been so efficient and we have surplus production from the wind turbines and they are using electricity so they are also sustainable in our own production.
So, in the first 10 years, we successfully made 100% conversion to sustainable energy production, but that is not the same as to be totally fossil-free because we still have fuel for cars and ferries and trucks and stuff like that, and tractors. So, the new plan is that we want to be a fossil-free island by 2030 and we have the highest percentage of electric vehicles in any municipality in Denmark. We have a growing number of solar panels on the roofs to produce electricity and to charge batteries and to connect to boats and cars and other transportation means. Our second latest ferry is a hybrid ferry sailing on gas-producing electricity for the thrusters and hopefully, we can produce our own biogas in the future. The second ferry is in a contractual process and will come out in the public tender in a year, and everybody is waiting for this to be a fully electric ferry.
Host: So, it's a big island with a lot of resources and a head start. But even if your island has a population of just 8 people you can get help. Here is John with Wendy again.
John: Maybe just to stay to people about the work that you are doing.
Wendy: We've got all these ideas, but we've worked with a consultant to pull together a clean energy transition agenda document, which will take all of these different ideas that we have and pull them into one place and enable us to look at it logically and to see whether there's other things that we could be doing that we've not thought of. And that will also enable us to link into the kind of national support bodies and anybody else that we're going to need to be working with to enable us to put in place or to implement the ideas that come out of the plan. And it gives us a route map really and enables us to think more broadly about our journey to low carbon or carbon you know zero-carbon activities and you know we've got a few ideas, but we won't have covered it all. So, I think the brilliant thing about that is it gives us access to consultants, but it also gives us access to all of the other islands and all of the ideas that they've got and the experiences they've had because there's no point in reinventing the wheel. If we can see and learn from others, it's such a better way of doing things than coming up with something from scratch.
Host: It's important not to be intimidated by the scale of the work on Samsø. You've already heard they have a great capacity for electricity generation, they've electric vehicles, they're even looking forward to having an electric ferry to the island some distance away from the mainland. But significant journeys start with simple steps, as Wendy Reid explains to John, even if you're getting a new chainsaw, you can make the new one electric.
John: So, if you take, like you mentioned transport there so, what plans have you got to make your transport electric or?
Wendy: Yeah, so that is the way to go, and I think we'd like to, over time, is to, as we have to replace things, is to try and be in a position where we can replace things with electric versions of those things. And it won't just be vehicles, you know, we've got power tools, you know, chainsaws and, you know, all that kind of stuff, so there's lots of ways in which we can minimise our use of petrol and fossil fuels. We're starting with larger-scale vehicles. So, we've managed to secure some funding already to enable us to purchase an electric quad bike and an electric Polaris vehicle, so Polaris vehicle is a utility terrain vehicle, it's a Hisun but it's like a golf buggy that's got a payload on the back that you can use to transport people and goods. So, we've got those two things already.
John: That's fantastic.
Wendy: And we're getting a couple of electric mountain bikes that we can use for ourselves but also hire out to visitors. With our electric mountain bikes, the bike lockers we've got, we've found some that have got solar panels on the top of the bike locker so the e-bikes will charge from the solar panels already integrated into the bike lockers.
John: That's fantastic.
Wendy: We do have a solar panel array on the island already that we inherited, so we're looking to see how we can utilise the spare electricity for the solar panels to charge the electric vehicles so we're looking into whether we can put a battery array in that will allow us to charge the electric vehicles from the solar panels. So, everything that we're going to do, we're looking to see how we can (a) utilise what we already have but can we do things in a way that minimises the use of fossil fuels or anything else.
John: Ok, and you mentioned a while ago about the housing stock. Like, what's the plan to make the housing stock renewable and more sustainable? Like, what do you think you'll do there?
Wendy: All of the houses are below tolerable standards so we're basically stripping them out and starting from scratch. They will be insulated to within an inch of their lives, they will have you know double glazing, they'll be draft proofed and so we're doing that so that we can install air source heat pumps into the buildings for their main source of heating. As I say, we don't have any roads on the island and getting things over, so you know if we put oil central heating in, we'd have the issue about how do we get the oil to the island in the first place, let alone the fact that it's a fossil fuel but just the logistics of getting things here are difficult. So, utilising renewable technologies is the obvious way to go. We will ultimately look to see whether we can put solar panels on the roofs to see whether we can use that to heat our water, but the main thing we're doing is the air source heat pumps. Beyond that, we'll be looking to see whether there are other things we can do with solar and with micro wind I think is another opportunity. The island itself sits within a national scenic area, so there's limited opportunities for us to put large scale wind turbines on the island because we just wouldn't get planning permission for it. Whether there's any opportunity for a really small micro-hydro we'll look into, but we don't have lots of natural streams, just because of the geology of the island, so we think that developments going forward are going to be focused around solar, micro-wind and things like air source heat pumps and ground source heat pumps.
Host: Two key parts of this moving on a journey to clean energy, whether you're a big island or a small island, is to have a plan or plans and to have a good way of communicating those plans. So, let's go back to Søren and hear what a big population island does in terms of plans.
John: If a community is just starting off on their journey, what's the best piece of advice that you can give them?
Søren: I think you should start with a party! Because it's all about communication really, I mean if it's only working with one person at a time having his own plans, then you are competing with each other about kind of the attention from the property or from the bank or from the financing institute. If you can agree on a master plan that has kind of a holistic, what do you call it, framing everything like the good life, the social and cultural life, kids in the school, you have a high-quality life there that attracts people from outside. Then energy is in the toolbox of things that can help this process. So, kind of a holistic master plan talking about the livelihood of the island as a main talking stick of the community and then look over in the toolbox and see what do we have in the toolbox that can help this process? What often happens is that you look directly in the toolbox, and you bring in the wind turbines or in the last case solar and people get afraid of changes, because this is too much to talk about or it's also too easy to eliminate it and say no, I don't like wind turbines or wind turbines are too noisy and they kill all the birds. But if you put the attention in another direction and say it's to help society, our community here to thrive and grow and be prosperous and healthy, then we have to look into the sustainable direction and find tools there that can help this economy locally. It's a matter of direction and psychology but I think that is, in my experience, what has worked for us to look at, what do you call it, in your face problems like how do you create the next job? How do you create the next kind of person to move over to the island and live there, and have kids to put in the school and have grocery tabs and cars to be mended? So, you fuel the local economy and then the energy transition is a really good instrument to make that happen.
Host: Søren firmly believes that to be able to make the transition to clean energy on an island, it takes good communication and that communication should stress at its heart the fact that clean energy assists in producing a better way of life on the island. He talks about tools in the box but it's also interesting about how you can encourage people with the financial savings that can be made for example on the reduced use of oil.
John: So, maybe just on the last note, maybe just to speak a bit about the financial model. How did you achieve all this, like if you were giving advice to a small island, how can they finance it?
Søren:     So, we looked at the cost of living as we did in the old traditional way where we bought oil from outside. I mean, oil was the main fuel and we had to buy it at different costs on the market. We didn't have any control of the market at all so what we saw with pricing going up all the time, almost never going down, so we collectively calculate that in 10 years the price would be like maybe 30 to 40% higher than it was today. If we adjusted the price level or, what do you call it, regulated the price level, we could use the price of oil to finance the cost of installing new technologies to replace the oil instead of importing the oil we could then buy the straw from the next-door neighbour or we could buy the electricity from our own wind turbines and the profit that was generated out of that business would be reinvested in new technologies instead of us earning money on tourism or potato-growing or fishing or whatever and then sell these products at a low price on the market and buy very expensive oil, that was kind of a dead-end and we could see we would lose that battle. But having control over the energy prices to compete with oil was a much better bargain and we would then generate energy and sell it to each other and actually make a little profit that could then stay on the island and help the local economy in such great manner that we could start planning with it, we could start installing new things and we could invite start-up companies to come and be here because we had an optimistic economy instead of having a negative, pessimistic economy that didn't dare to do anything.
Host: A notion of clean energy being of financial value to an island is made clear thereby Søren when he speaks of the savings that can be made from reducing your oil intake. But even on Ulva, where not much oil is used, the islanders are able to sell extra electricity created by solar panels back to the grid and they hope to trap more of that energy on the island itself for their own use.
John: I just have one more question as well, about supply from the mainland. Like, will you have the opportunity if you produce a lot of electricity, say in the summer, from solar can you sell excess back to the grid?
Wendy: Yeah, we do that already so the solar panels, all the solar panels do at the moment is sell to the grid. We're not utilising the free electricity, which is why we want to try and find a way of, it used to go into the main house, it's not occupied at the moment. So, we're wasting the opportunity so we're looking at other ways which is why we're looking into a battery array that would link into the solar panels that would allow us to store the excess electricity and then be able to use it when we needed it, so for charging the electric vehicles. The electric vehicles that we've got don't require specific charge points, they just plug into a domestic socket and that's the difference between like, you know, an electric car or an electric UTV and the quad bike is that they don't require, you know, rapid charging points or anything like that. You know, and as we've got a couple of electric chainsaws on the island so we can plug those in and charge those from, so there's a number of different things that as we transition to more electric-based tools and vehicles if we can utilise all of the electricity that the solar panels generate it would be much more efficient.
Host: Thank you very much, Wendy. So, you've been listening to "Voices from the Islands: A Journey to a Clean Energy Future for EU Islands". We'd like to thank Søren Hermansen and Wendy Reid and the interviewer John Walsh. The Clean energy for EU islands secretariat and this podcast are an initiative of the European Commission made possible through European funding. To learn more, or to join the action, why not check out our website, the address is clean-energy-islands.ec.europa.eu. I'll say that again, so if you have a pen, it's clean-energy-islands.ec.europa.eu. And if you do, you'll see we're effectively a one-stop shop for Europe's Island communities transitioning to clean energies. Whether you're looking to connect with other island communities, perhaps technical experts, if you need support on project development or if you're just looking for practical materials to help you advance the transition on your island, you'll be in the right place. Thank you.